We keep a few general rules at all of our shows. Yeah, rules suck and so does life.
On your way in, our security team may ask to look into your bag or coat pocket. This is for the protection of our audience and performers and to keep our theater clean. If we find something on our list of prohibited items you can bring it back to your car or get it back from a representative of our security team after the show. Confiscated food items will not be returned, and illicit substances of any kind will not be allowed in the auditorium or disposed of in the theater.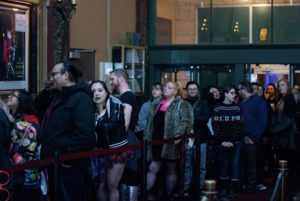 1. No Smoking or open flames.
2. DON'T THROW THINGS at the screen or at the performers. Don't harass the performers. If you're an asshole to the performers, we'll be assholes to you.
4. When it's time to 'Time Warp' jump up and Time Warp, but please do so in your row. We use the aisles and performers will need to get by. Unless you're getting up to use the restroom, we ask that you remain in your seats during the movie and not keep personal items in the aisles.
5. Do not use drugs or bring in outside alcohol. The Music Box sells a variety of beer, wine, and mixed drinks at their concession counter and in their lounge.
6. No sex in the theater. If you want to "do it in a theater," go to another theater.
7. Don't attempt to sneak into our theater - all cast members have ID badges. If you don't have a badge or a ticket, you'll get tossed.
Prohibited Items:
-Guns, knives, or weapons.
-Outside drugs or alcohol unless it's in you already.
-Squirt Guns
-Food for throwing including: rice, toast, prunes, and hotdogs.
-Small people inside you operating you with controls