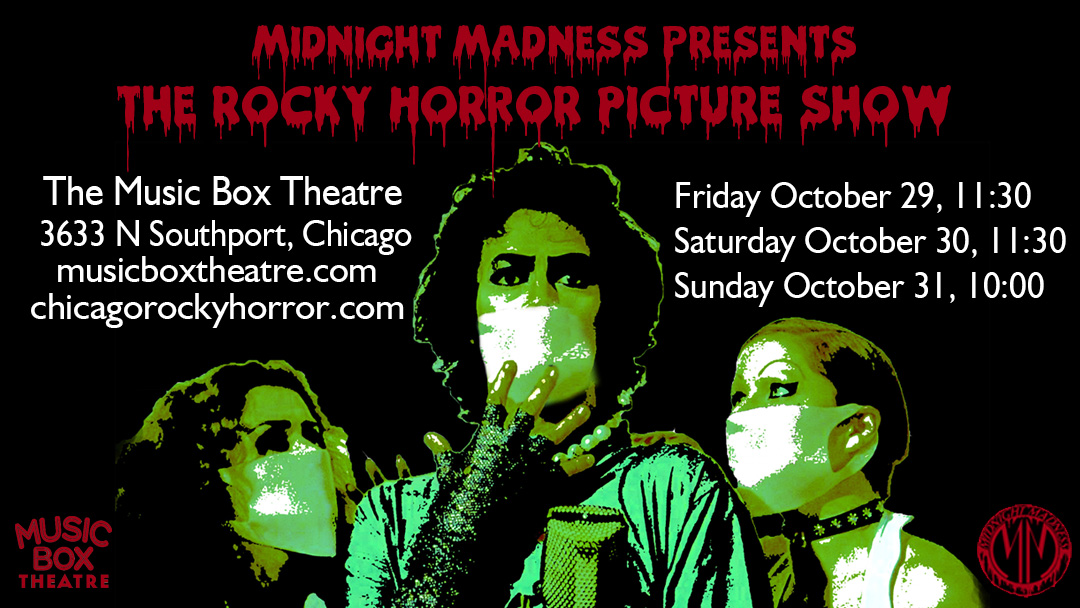 So you want come to Rocky Horror? Well golly-gee-gosh mister! There's a pandemic out there!
Limited virgin kits will be for sale at our shows. Virgin kit sales are cash-only and on a first-come-first-served basis. You're always welcome to make your own prop bags at home though! Instructions can be found on our Virgin Kit Page.
Looking to support the cast and buy some junk to wear around? Check out our online Shop Page. Orders can be placed online from your phone and will be available for pickup before preshow and after the show at the merch table in the lobby. Please have your order receipt ready when picking up your order.
In conjunction with the Music Box opening to full capacity, all visitors to the Music Box Theatre will need to show proof of full vaccination or a negative COVID test for all screenings and events at the Theatre. Guests must provide a valid photo ID, and at least one of the following:
*Physical vaccination card (photocopy is permitted as well)
*Digital vaccination record (Photo from your phone is permitted)
*Negative PCR COVID test within 72 hours of your visit (Photo from your phone is permitted)
In accordance with the City of Chicago mask mandate, masks are still required for entry into the Music Box, and must be worn in the lobby, lounge, restrooms, and both auditoriums. Masks may only be lowered when drinking or eating while seated in an auditorium, and then promptly replaced. Children under 12 who cannot yet be vaccinated may attend accompanied by a fully-vaccinated adult, and they must also wear a mask.
If you have purchased a ticket to a screening on or after October 8th and are unable to comply with these policy updates, please call our Box Office at 773-871-6607 to receive a full refund.
-Please do not enter the Music Box Theatre if you are experiencing any COVID-19 or flu-like symptoms.
Thank you for your continued patronage. We look forward to offering you the safest and cleanest movie-going experience possible. We'll see you at the movies! If you have any questions, please feel free to email us at BoxOffice@MusicBoxTheatre.com