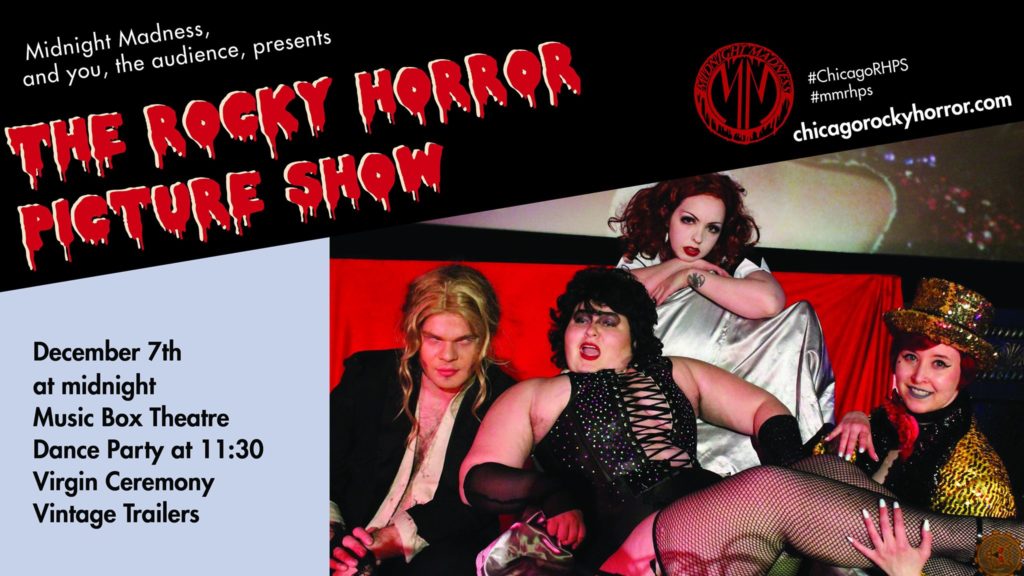 Midnight Madness Rocky Horror is back at the Music Box once again Saturday December 7, just in time for our annual AUDIENCE NIGHT!
Audience night is the show night that we dedicate to our audience and friends. We cast our show in reverse-seniority, meaning that roles go first to our audience members wanting to try out a role (or maybe even join our regular cast), as well as our cast members wanting to try out something different.
If you're interested in getting involved for a night, have a costume together, and want to do what we do, fill out the submission form on our website & we will get back to you as soon as possible:
http://chicagorockyhorror.com/index.php/audience-night/
Deadline to apply is 11:59PM Friday November 22nd.
Not interested in performing, but still want to get your Rocky Horror fix? Arrive early and drink in the Music Box Theatre Lounge. Our Video Dance Party begins at 11:30pm and the show starts at midnight. You'll be treated to a virgin ceremony, live performances and classic 35mm film trailers followed by the feature presentation of Rocky Horror with a full shadowcast. Come be a part of a Chicago institution for over 30 years!